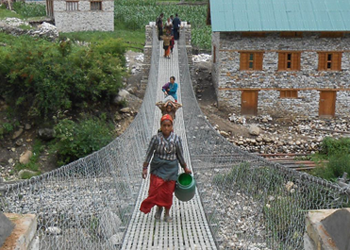 DFID Nepal has been supporting the trail bridge programme through various projects. The most recent one being the Rural Access Programme (RAP) 2 and 3 between 2013-2016.
Through RAP 2 and 3, financial support for the construction of 94 trail bridges were provided in eight districts in the Mid and Far-Western development regions. Meanwhile, as per the tri-partite agreement between RAP, DoLIDAR and HELVETAS Swiss Intercooperation, Trail Bridge Support Unit (TBSU) provided technical assistance.
The 94 bridges completed through RAP 2 & 3, benefited over 166,600 people (50% belonging to disadvantaged groups). During the construction process, over 246,200 person-days of employment was generated at the local level (55% for disadvantaged groups).
For more details visit DFID Page HERE